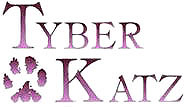 ©2002-2017

~Presents~
The KAT KING
HIS ROYAL PURRNESS
This one of a kind handcarved, handpainted wooden cat doll was commisioned by a wonderful
Tyber Katz Collector , Anna from Switzerland.
This doll is 16" tall, has textured fur lindenwood
head and paws, real cat whiskers. His crown is
carved from Bubinga & Zebra Wood with inlaid
"faux" jewels. His sceptre is brass with carved
Bubinga Heart. His robe is velvet with vintage
fur accents. He takes a little royal cat nap, as
all is well in his kingdom.